CARD BOARD SLED DERBY SATURDAY, MARCH 21,2020
NASTAR RACE HILL/ TELLURIDE SKI AREA–
DATE: Saturday, March 21, 2020
LOCATION: NASTAR Hill, Telluride Ski Area (to the right of Chair 4)
REGISTRATION: Online Pre-Registration and waivers signed by parents required
CHECK IN & INSPECTION: – 9:00am – 10:00am by race shack. Required for all!
RACES START: 10:30am
Sleds will race a minimum of two times. Awards given immediately at the end of races.
QUESTIONS CALL: One to One Office 970-728-0885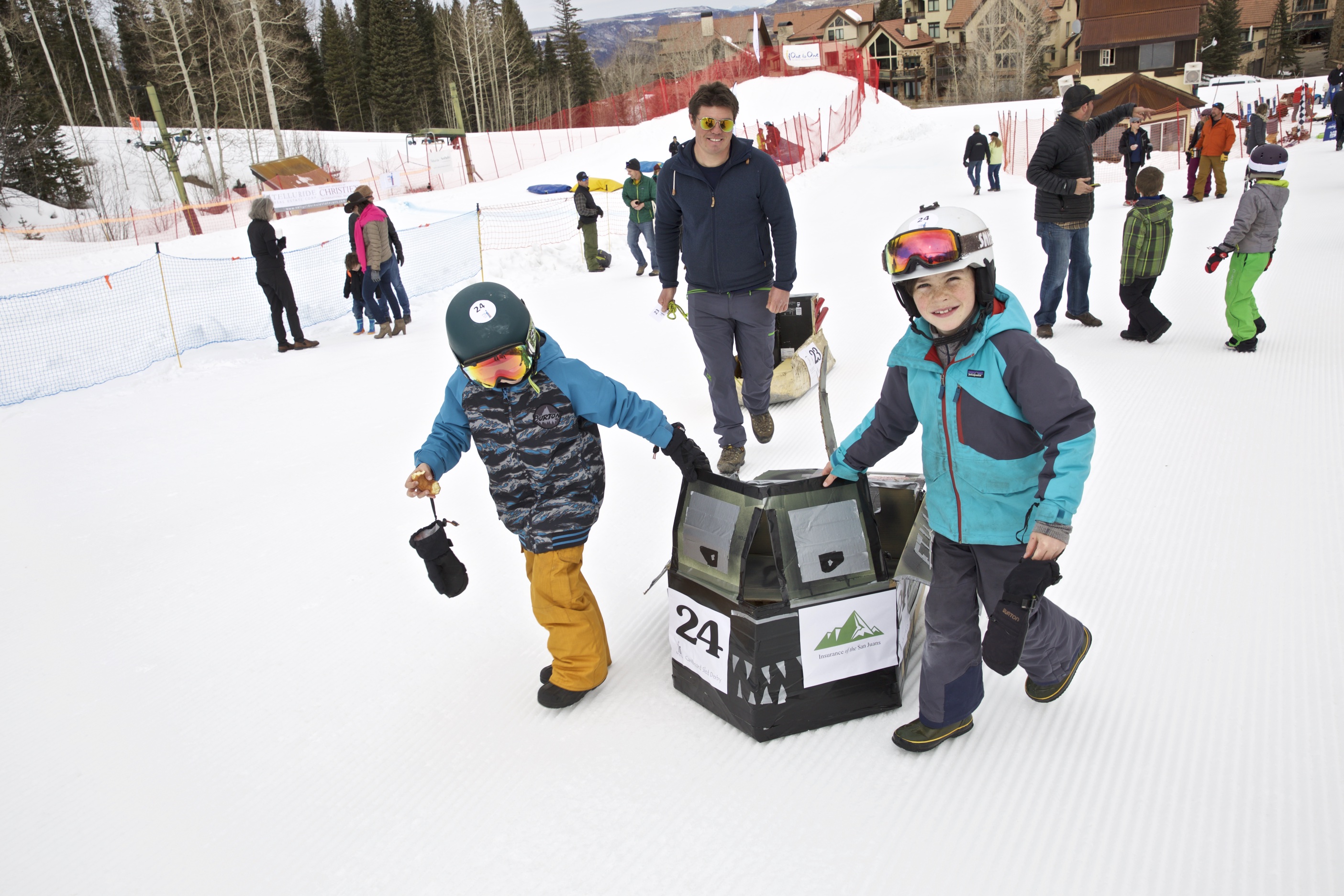 Hold the razor sharp skis and the spandex . . . the NASTAR race course just got a whole lot cuter. The annual Cardboard Sled Derby, a benefit for One to One Mentoring, takes place Saturday, March 21, 2020 on the NASTAR race course at the Telluride Ski Resort. All children ages 5-14, whether local or visiting, from Telluride, Norwood, Ridgway and beyond are invited to get crafty with cardboard, tape, a little glue, some wax and paint and try their hand at winning the title for Speed, Creativity and Sportsmanship.
"The Cardboard Sled Derby is the absolute best kid's event of the year. The event draws budding thrill seekers, creative artists, and best friends looking to work as a team, for a chance to stand atop the podium," says Tara Kelley, Executive Director of One to One Mentoring. "We are grateful for our long standing partnership with the Telluride Ski & Golf Company for making this phenomenal kid's event a success year after year," Kelley added.
The event brings awareness to the community about youth mentoring and raises funds to cover programming costs. All of One to One Mentoring's services are free. The organization raises its entire budget through grants and donations. Caring, responsible adult mentors are always in demand and youth within the county, from kindergarten through high school, can apply to the program year-round.
"The creativity that goes into these sleds is remarkable," exclaimed Kelley. "From dinosaurs to fire trucks to yellow submarines, puppies and sharks, the kids, their parents, and their mentors put forth a huge team effort in creating fast and incredibly artistic sleds."
One to One Mentoring is looking for business sponsors for the 2020 event. Business' that donate $350-$750 will have their logo featured boldly on one to five sleds, as well as ongoing mentions by the event MC's and promotion on social and local media.
"Mentoring is so much more than homework help," says Kelley. "Academics can be a component, but most importantly the kids in our programs gain confidence, have fun, and have a trustworthy adult who they can count on week to week. The relationships and skills built through mentoring have a lasting effect on the kids, the mentors, and the entire community," Kelley explains.

WINNERS/ SPEED
1 – OLIVER WOLCOTT
2 – IRVIN OSSOLA
3 – PORTER BLACK

WINNERS/ CREATIVITY
1 – EVAN STOGNER
2 – ELLA-ROSE APLIN & LILA GOLDBERG
3 – MISSAEL & MARISOL RAMIREZ

WINNERS/ SPORTSMANSHIP
1 – HOLLIS & GEMMA ANDREW
2 – NOAH & GRACE BLAKNEY
3 – AIDAN COE & GRACE KIRKWOOD
RACE DAY DETAILS
REGISTRATION WAIVERS – NO WAIVER = NO RACING
All racers must be registered and have a completed Waiver signed by their parents
Waivers will be available at the event.
SLED DROP OFF & PARKING
SLED RACE COURSE – At the NASTAR course to the right of Lift 4 if looking up mountain. No lift ticket required. Walk up to course from The Beach.
SLED DROP OFF – Use Lost Creek Lane – in-between Blue Mesa building and Lumiere. NO PARKING AT LUMIERE!
PAID PARKING – Underground parking below Hotel Madeline or at the Mountain Market/ Gondola parking structure.
CHECK IN – 9:00 AM – 10:00 AM
Check in table near race shack. All racers must check in to get their sled numbers and have their sled inspected and judged for creativity. Racers will get a donut at check in & a boxed lunch.
IF YOU DON'T CHECK IN – YOU DON'T RACE!
RACING STARTS AT 10:30 AM
Racing will run in heats, advancing to the top 3-4 racers
The MC's will announce when it is time to bring sled to the top of the race hill.
Check the board at the base of the race course to see what heat your sled is in.
Each sled will race a minimum of two times.
SLED CLEAN UP
A dumpster for flattened cardboard will be at the base of the race course.
THANKS for flattening your sled!
DAY OF THE RACE CONTACT
Registration – Kathleen Morgan – 970-728-2437 (cell) All other – Tara Kelley – 970-708-3764
SLED & RIDER RULES
– Open to ages 5-14 (Maximum Age is 14 years of age by 3/24/18)
– $25 per sled (payment link in online form)
– Each rider MUST have a signed WAIVER & RELEASE FORM to participate. NO EXCEPTIONS. (See link in online form)
– Maximum of 2 RIDERS per sled
– Riders may race on one sled team only
– Racers are required to wear ski helmets, goggles, gloves, long sleeves and long pants
– No ski boots permitted on sleds
– No parents allowed at the starting line area
SLED CONSTRUCTION RULES
– All sleds will be inspected for compliance of rules at registration. Sled inspectors have the final say.
– Sleds may be constructed of corrugated cardboard, paint, tape and glue ONLY with string/rope for handles
– No Sonotubes, pressed paper, metal, plastic, wood or metal tape permitted.
– No non-corregated cardboard sled runners. Runners must not extend more than 6″ in front of sled.
– Sleds must have a front, bottom and two sides. All sides must be a minimum of 6 inches in height and racer's bodies must fit on sled.
– Sleds must be free of sharp or pointy objects. Any sled that questions the safety of the racer or audience will be asked to alter the sled or will not be able to race.
– Participants will be given the opportunity to fix any issues before racing begins. If a violation is detected at the start line, the sled will be disqualified from the event.
– No paddles, hockey sticks, etc. can be used by racers
– Waxing and oiling are permitted & encouraged
THANK YOU FOR MAKING THIS A FUN KID EVENT!